Growing numbers of children risk being excluded and "going unnoticed" as schools return to normal after the pandemic, experts fear.
Analysis of recent government data shows the problem was getting worse before the pandemic, but there was a lull as schools were closed due to the virus.
Figures from the Department of Education show that in the fall term before the first lockdown, blanket exclusions rose 5% and elementary school exclusions rose 20%.
However, evidence suggests that this may soon be replaced by an increase in exclusions, as children go back to school, with problems at home bottled up and likely to incite bad behavior.
It comes as the former children's commissioner is launching a new initiative to prevent what she calls a "treadmill" of vulnerable children falling into the hands of gangs and criminals.
Anne Longfield told Sky News: "We know COVID has taken a heavy toll on these children – the vulnerabilities they have experienced at home; drug addiction, domestic violence, have increased and many of them are failing. don't connect to school either, so they might disappear from the radar. "
Ms Longfield is today launching the Commission on Young Lives, which aims to work with other youth groups to design a new national system to prevent children from getting involved in counties and gangs.
The commission warns that even before COVID hit in March 2020, nearly 15,000 children had been referred to social services due to gang fears in the previous 12 months – an increase of 4,000 from the year former.
Those who work with vulnerable children see increasingly serious problems – more domestic violence, more food poverty, more children with mental health issues and a resurgence of knife crime which has led to more teens coming to A&E with stab wounds.
Part of solving the problem will be deciding how to stem the increase in school exclusions.
"Since the lockdown ended, exclusions have increased in the local authorities we work with," says Kiran Gill, founder of The Difference – a project that attempts to prevent school exclusions through teacher training.
Ms Gill also cites the increase in domestic violence cases and worsening mental health problems as aggravating factors.
Teachers lack training on bereavement

She adds: "We need to reverse this trend because only 4% of excluded young people are likely to get a pass in English and Mathematics from GCSE and even at the age of 20, young people are unlikely to have. the reading and numeracy skills needed to access the workforce.
"Therefore, it is not surprising that they are much more likely to be involved in the criminal justice system."
The Difference runs what it calls a Leaders Program which places teachers in mainstream schools in Student Reference Units (PRUs) for excluded children so they can learn to better understand their issues and keep them in the system. .
English teacher Daniel Cain-Reed who joined the program now teaches at a PRU run by Haringey's Learning Partnership in North London.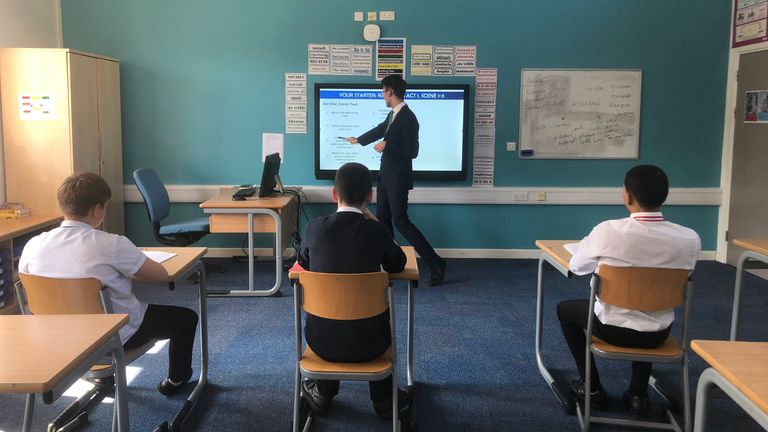 He told Sky News: "I don't think I ever felt my ordinary school [was] always in the best position to give these young people and their families the support they need, and this is something that I have definitely learned.
"I feel a lot more informed, and when I return, I will help my traditional colleagues to be more preventive and to spot the signs of trauma maybe – to identify the risks that some people might experience and to mitigate. this so that children can continue to be successful in mainstream schools. "
He added: "I think I have certainly noticed that young people are also much more excluded at a much younger age, and when that happens at a younger age it is a real challenge for the staff to strengthen. this resilience. "
At Harringay PRU, we met 14-year-old Miriam Khadir, a 10th grader, who was kicked out of two high schools for "persistent disruptive behavior", though that sentence underestimates the complexity of what happened.
In Miriam's opinion, her teachers never explored the root causes of her problems.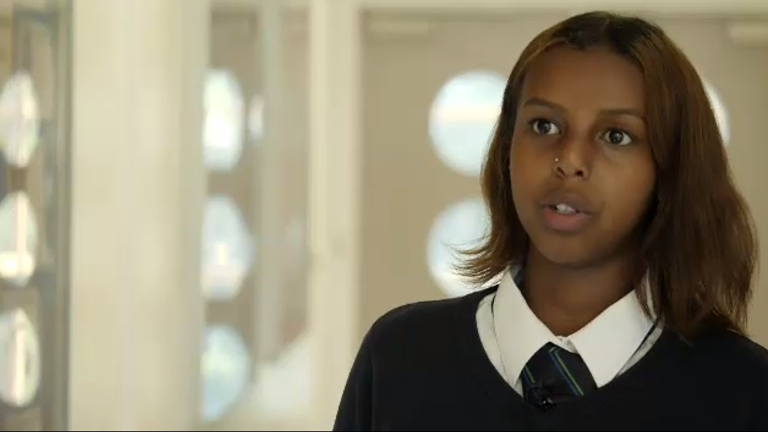 She said: "If you are happy to explain everything that is wrong with your home at your school, that makes your life easier.
"Let's say something's going on at home. You come to school and you are upset, and if you can let all of that anger and annoyance run its course (with a support worker / teacher before class), then you're happy to come in and learn. have a good frame of mind and are ready to go to school.
"But if you come home, there is no one to talk to you, there is no support, you come back to class [and] you are not ready to learn.
"You are always upset with what is going on at home. Therefore, the child will not be ready to learn. Not all children need a mentor, but some do need help expressing this. happening at home. "
Computer science teacher Kalpana Jegendirabose is also on a two-year internship as part of The Difference program with Haringey Learning Partnership.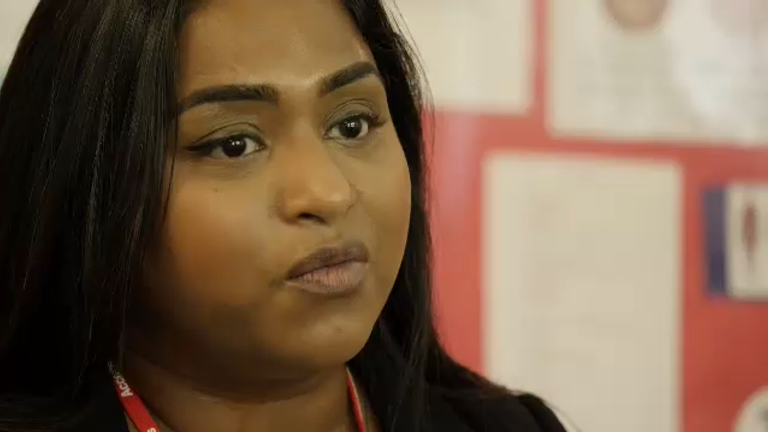 She said: "We have more opportunities [at the PRU] to have conversations with the children here and to sit with them. These things wouldn't necessarily have happened in the general public because the schedules are so strict – there's no place to actually have these conversations. "
Miriam is now entering her first year of GCSE preparation and hopes to reverse the tendency of children to fail after leaving mainstream education. She is now more committed to lessons and has a love of history.
She responded to her exclusion from school by raising £ 2,500 to open her referral unit's first library for pupils.
The opening this week was attended by local MP David Lammy and children's author Michael Rosen.
It seems that the exclusion of Miriam was the downfall of the general public. How often is this the case?